Atsushi Ōkubo

Names::English name::Atsushi Ōkubo Kanji name::大久保篤 Romaji name::Ōkubo Atsushi

Name

Kanji

大久保篤

Romanization

Ōkubo Atsushi

English

Atsushi Ōkubo

Aliases

Atsushi Ohkubo
OKUBO Atsushi
OOKUBO Atsushi

Professional Status

Born

1979, September 20th

Age

37

Gender

Male

Nationality

Japan

Ethnicity

Japanese

Occupation

Mangaka (Manga Artist Lit. Comic Artist)
Former Assistant of Rando Ayamine

Years Active

1999-Present

Notable Works

B. Ichi (2002)
Soul Eater (2003-2013)
Soul Eater Not! (2011-2014)
Fire Brigade of Flames (2015-Present)

Personal Information

Homeland
Atsushi Ōkubo (大久保篤, Ōkubo Atsushi; born September 20, 1979), also romanized as Atsushi Ohkubo, is a Japanese manga author and artist specializing in fantasy. He is the creator of the manga Soul Eater and its prequel Soul Eater Not!, as well as the manga B. Ichi and Fire Brigade of Flames. Early in his career, Ōkubo worked as an assistant under Rando Ayamine on the manga series GetBackers. He also has created artwork for the card game Lord of Vermillio card game and character designs in the 2013 Nintendo 3DS game Bravely Default. You can follow his Twitter down below.
☀https://twitter.com/atsushi_ohkubo?lang=en
Biography
Edit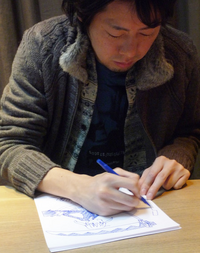 Atsushi Ōkubo was not exactly a model student, being more attracted to actual drawing than to school learning. When he turned 20 and after finishing his studies at a manga school, he met Rando Ayamine there who is the artist of the
GetBackers.
In this project, he became Rando Ayamine's assistant for two whole years. Later in his career, he won a competition at 
Square Enix's Gangan magazine
 with his first manga series
B.Ichi' 'and
B.Ichi
was published for four volumes. After the end of his
B.Ichi's
run, he created
Soul Eater
still for
Gangan
which brought him worldwide success and recognition.
Early Work
Edit
Ōkubo got his professional start as an assistant under Ayamine by helping him with Ayamine's manga series, GetBackers. He then devolped B. Ichi, a spiritual predecessor to Soul Eater.  He created Soul Eater with three one-shots published from Summer to Autumn 2003.
Art style
Edit
Ōkubo's style includes bright, vibrant colors, excellent line work, and abstract elements to provide a sense of odd surrealism in his pieces. Often but not limited to having lanky characters featured in bizarre backgrounds, Ōkubo's art creates either busy and loud scene with just style alone or, a solitary image focusing on the a sort of absurity in a piece. Although his artwork can appear cartoonish, he also manages to draw more realistic images.
Later Works
Edit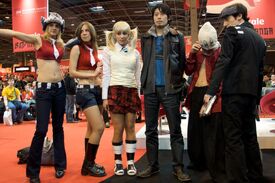 While very early in his career he was simply regarded as talented, it was Soul Eater, with its originality of concept and designs, and its vibrant animated adaptation, that made him popular among fans of anime and manga. Soul Eater is often regarded as Ōkubo's magnum opus. He concluded the manga with Chapter 113 in 2013.
In 2011, Ōkubo began publishing Soul Eater Not!, a prequel spin-off manga featuring original characters along with some of the original cast. Soul Eater Not! concluded with Chapter 42 in 2014.
Also in 2011, Ōkubo illustrated the cover for the musical album, SQ Chips, which features music from video games published by Square Enix (the publisher of Soul Eater and Soul Eater Not!).
In 2013, Ōkubo designed characters for the Nintendo 3DS title, Bravely Default.[sourcing needed]
In 2014, Ōkubo created the manga Fire Brigade of Flames.
Ōkubo has a type B blood type.
Ōkubo has stated early in the making of Soul Eater that he did not want to drag on the series like the popular Manga One Piece and Naruto.[1]
Ōkubo has stated that he enjoyed the anime adaptation of Soul Eater.[2]
References
Edit