Cherami Leigh

Names::English name::Cherami Leigh

Name

English

Cherami Leigh

Professional Status

Born

July 19th, 1988
Dallas, Texas, U.S.

Age

30

Full Name

Cherami Leigh Kuehn

Gender

Female

Nationality

American

Residence

Texas and California

Education

Collin College

Occupation

Actor, DJ

Years Active

1997-Present

Employer

Aniplex, Bang Zoom! Entertainment, Funimation, Studiopolis, Viz

Notable Roles

Patty Thompson (Soul Eater)
Lucy Heartfilia (Fairy Tail)
Asuna Yuuki (Sword Art Online)
Sailor Venus Minako Aino (Sailor Moon)

Personal Information

Homeland

Carrollton, Texas[1]

Spouse(s)
Cherami Leigh Kuehn is a United States actor at Aniplex, Bang Zoom! Entertainment, Funimation, Studiopolis, and Viz. She has acted in numerous video games and in English versions of Japanese anime series. She is the English voice of Patty Thompson of the anime Soul Eater.
Biography
Edit
Leigh began acting at the age of six and studied theater at Collin College in Plano, Texas. She studied the Meisner-based Film Acting Technique with Nancy Chartier from the age of nine until she moved to Los Angeles as a young adult.
As a child, Leigh played Gretchen in Finding North, Marcia in Temple Grandin, Young LeAnn Rimes in the television special Holiday in Your Heart, Stacy Anderson in The President's Man, and appeared on Walker, Texas Ranger multiple times.
Later on screen, she played Kim in Fast Food Nation and Robyn Goode in Throwing Stones. She also has acted in the television series Friday Night Lights, Bones, and Shameless. In 2014, she had a lead role in Shane Dawson's movie Not Cool, which he developed for the reality competition television series The Chair.[4]
She also has worked for Radio Disney as a DJ and also voice-over promotions and commercials for ABC Radio for 10 years.[5]
Some of Leigh's roles in animation for Funimation include Lucy Heartfilia in Fairy Tail, Sae Kashiwagi in Peach Girl, Cecily Campbell in The Sacred Blacksmith, Tamaki Kawazoe in Bamboo Blade, Liechtenstein in Hetalia: Axis Powers, Natsumi Hinata in Sgt. Frog, Kazari Uiharu in A Certain Scientific Railgun, and Elicia Hughes in Fullmetal Alchemist: Brotherhood. While in Los Angeles, she has portrayed Asuna Yuuki in Sword Art Online and Sailor Venus Minako Aino in Sailor Moon.[6]
She has also acted in numerous video games, including Borderlands 2, Danganronpa, and Xenoblade Chronicles X.
Personal Life
Edit
Leigh married fellow actor Jon Christie on April 13, 2014, whom she had been dating since 2010.[2][3]
Soul Eater VoicingEdit
Main article: Patricia Thompson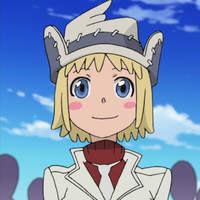 Leigh voices the demon weapon Patty Thompson, a protagonist in the first Soul Eater anime series who, along with her sister and fellow demon pistol Liz Thompson, are partners to the Death God Death the Kid. Leigh is currently the only English voice actor for Patty; she reprised the role in Soul Eater NOT!.
References
Edit