Joel McDonald

Names::English name::Joel McDonald

Name

English

Joel McDonald

Professional Status

Born

December 23rd, 1980[1]

Age

37

Gender

Male

Nationality

American

Occupation

Actor, ADR director, ADR scriptwriter, line producer

Employer
Notable Roles

Kilik Rung (Soul Eater)
Taumi Fujiwara (Initial D)
Brief (Panty & Stocking with Garterbelt)
Meow (Space Dandy)

Personal Information
Joel McDonald is a United States actor, ADR director, ADR scriptwriter, and line producer at Funimation. He provides voices for numerous English versions of Japanese animated series. He is the English voice of Kilik Rung in Soul Eater.
For Funimation, he has portrayed Taumi Fujiwara in Initial D, Brief in Panty & Stocking with Garterbelt, and Meow in Space Dandy.[1]
Also for Funimation, McDonald has been the ADR director for numerous anime series and films. In addition to acting and directing for Initial D and Space Dandy, he has directed Assassination Classroom, Baka and Test, Deadman Wonderland, One Piece, Sgt. Frog, and Tenchi Muyo! He also has been ADR scriptwriter for Claymore, D.Gray-man, and Dragon Ball Z Kai.[1]
Soul Eater VoicingEdit
Main article: Kilik Rung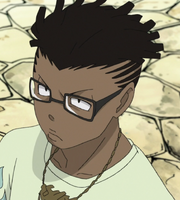 McDonald voices Kilik Rung, meister to Pot of Fire and Pot of Thunder in the first Soul Eater anime. McDonald is currently the only English voice actor for the character; he reprises his role in Soul Eater NOT!
McDonald has been close friends with fellow Soul Eater actor Ian Sinclair, the English voice of Akane☆Hoshi, since they began acting together on stage in Texas[2] Sinclair and McDonald portray Dandy and Meow in Space Dandy, which like Soul Eater is a Square Enix / Studio BONES production distributed by Funimation and Toonami. The ADR writers for one episode of Space Dandy allude to Sinclair and McDonald's real-life friendship: Meow's mother thanks Dandy for "tolerating" her son, a line McDonald's mother actually said to Sinclair upon first meeting him.[sourcing needed]
References
Edit
↑ 1.0 1.1 1.2 "Joel McDonald". Anime News Network. Accessed 27 January 2016.
↑ "Voice Acting vs Stage Acting w/ Joel McDonald & Ian Sinclair at Animate! Miami 2014." YouTube. 23 Jan 2014.
Community content is available under
CC-BY-SA
unless otherwise noted.