There have been two popularity polls so far in Soul Eater. The first poll was taken around Chapter 53, and the second poll was taken at Chapter 100.
First poll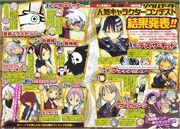 Medusa
Kirikou Rung (Kilik Rung)
Hiro, Risa, Masamune Nakatsukasa, Ragnarok, Mizune(s), the fairy from Excalibur's cave
Second Popularity Poll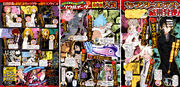 5th Place: Crona
6th Place: Excalibur
7th Place: Tsubaki Nakatsukasa
8th Place: Franken Stein
9th Place: Medusa Gorgon
10th Place: Death
11th Place: Justin Law
12th Place: Patty
13th Place: Kim Diehl
14th Place: Marie Mjolnir
15th Place: Liz
16th Place: Spirit
17th Place: Blair
18th Place: Hiro
19th Place: Ragnarok
20th Place: Asura
21st Place: Harvar D. Éclair
22nd Place: Ox Ford, Mifune, Jacqueline O'Lantern Dupré, Pot of Thunder, and Gopher.
Community content is available under
CC-BY-SA
unless otherwise noted.