Book Data
English Title
Soul Eater
Romaji
Sōru Ītā (Hepburn)
Kanji
Katakana
Alternate Title(s)
Author(s)
Atsushi Ōkubo
Publisher(s)

Gangan Comics

(Japan)
Yen Press (USA)
Release Date
May 12, 2004
Genre(s)
Supernatural, Fantasy, Comedy
Original Run
May 12, 2004 – August 12, 2013

(

Image Gallery

)
Soul Eater (Japanese: ソウルイーター, Hepburn: Sōru Ītā) is a Japanese manga series written and illustrated by series creator Atsushi Ōkubo. The series revolves around three teams consisting of a weapon user called a "meister" and at least one "demon weapon", humans that can transform into a weapon. These teams attend a special school called Death Weapon Meister Academy that's ran by the headmaster, Death. They defend the world from the forces of evil as well as attempt to craft a death scythe, a weapon fit for Death, by hunting down 99 evil human souls and one witch soul.
The manga is published by Square Enix and was first released as three separate one-shots serialized in two Gangan Powered special editions and one Gangan Wing in 2003. The manga started regular serialization in Square Enix's Monthly Shōnen Gangan manga magazine from May 12, 2004 to August 12, 2013. The manga has been licensed for distribution in North America by Yen Press. The English translated version of Soul Eater is serialized in Yen Press' Yen Plus manga anthology magazine starting in July 2008, and the first manga volume was released in October 2009.
Plot
[
]
Development
[
]
After finishing B. Ichi, Okubo went on to create Soul Eater originally as a one-shot series (Prologue #1). Due to the reception, he later created two more one-shots (Prologue #2, Prologue #3). Gangan Comics then asked Ohkubo to create a series based off his one-shots, in which turn became prologues to his series.
In an interview with producer Atsushi Ohkubo, he stated that the series was greatly inspired by ideas from Tim Burton's animations, and by concepts from Harry Potter. Ohkubo also stated he made the hero (or heroine) of the series, Maka, a female to differ from the traditional male hero found in most Shonen manga. He also said the series' title, "Soul Eater", was intended to refer to the Asura and his desire to eat innocent souls, and not to the character, Soul.[1]
Media
[
]
Manga
[
]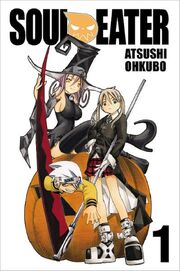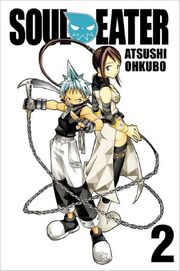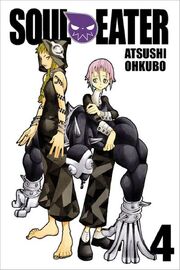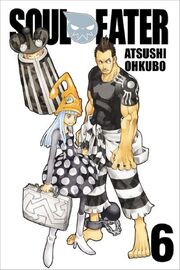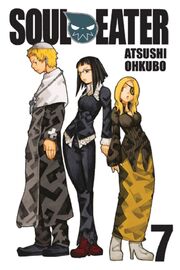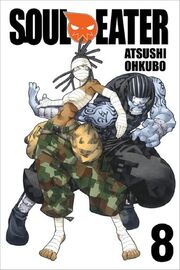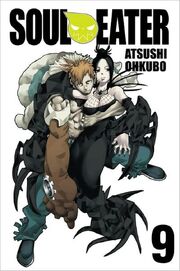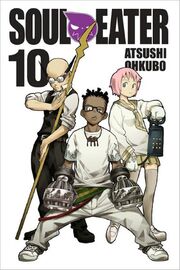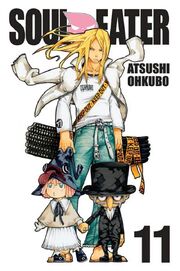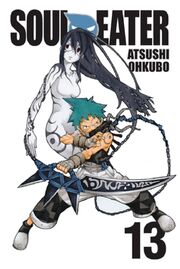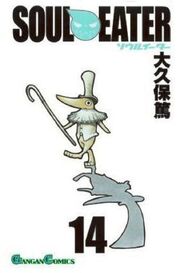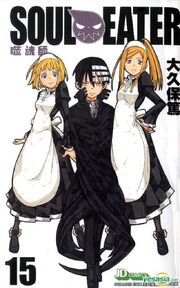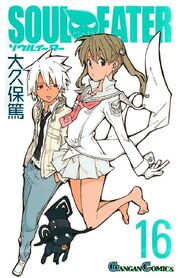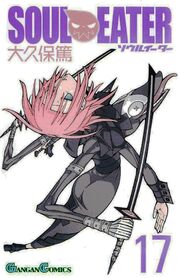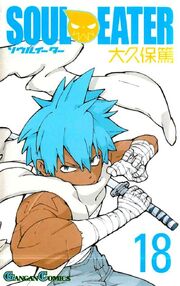 Volume 18

[

]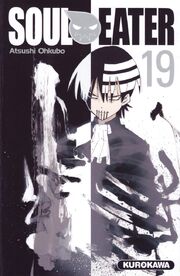 Volume 19

[

]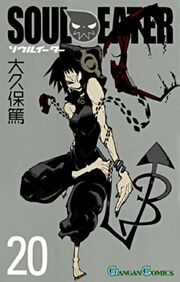 Volume 20

[

]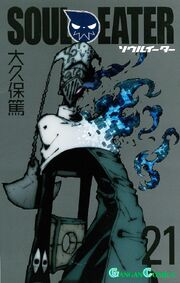 Volume 21

[

]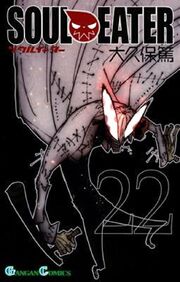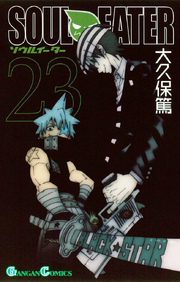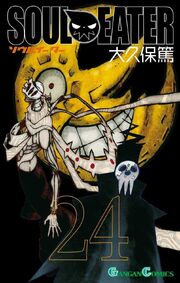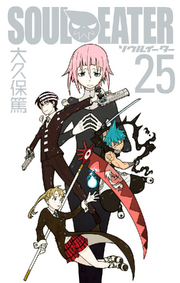 Anime
[
]
A 51 episode anime adaptation was directed by Takuya Igarashi, and produced by Bones, Aniplex, Dentsu, Media Factory, and TV Tokyo; Bones and Aniplex were responsible for the animation and music production respectively.[2][3] The anime's scenario writer was Akatsuki Yamatoya who based the anime's story on Atsushi Okubo's original concept. Character design was headed by Yoshiyuki Ito, with overall art direction by Norifumi Nakamura.[2] The anime's conceptual design was done by Shinji Aramaki. Soul Eater is Bones' third anime series to run with 50-51 episodes, after 2003's Fullmetal Alchemist and 2005's Eureka Seven.
The anime was regularly broadcasted Mondays at 6:00 PM on TV Tokyo. The official Japanese website of the Soul Eater anime series announced that each episode would air in two different versions: the regular Monday 6:00  pm version and a Late-Night Soul Eater Late Show version, in which special footage was added at the start and end of the commercial break, and with new versions of the previews for the next episodes. The dual broadcast of this supernatural action series was billed as the "world's first evening and Late-Night resonance broadcast." The term "resonance" refers to a story concept in which the characters, such as the heroine Maka and her living Weapon partner Soul Eater, achieve maximum power by synchronizing their souls.[4] Masahiko Minami of Bones, Koji Taguchi of Square Enix, and Ryo Ohyama of Aniplex mentioned that they want to create a second Soul Eater anime after waiting and seeing how the story progresses.[5]
The Episodes started airing on April 7, 2008, on TV Tokyo, and two animated specials aired on May 29 and June 1, 2008.[6] The Episodes Also Aired at later Dates on TV Aichi, TV Hokkaido, TV Osaka, TV Setouchi, and TVQ Kyushu Broadcasting Co.[2] The final Episode Aired on March 30, 2009. The first DVD compilation volume was released on August 22, 2008 with the first three episodes. The second DVD compilation volume was released on September 25, 2008 with episodes four through seven. Each DVD volume will be released in monthly intervals.[7]
In the United States, the anime was licensed by Funimation, which released the series in four half-season DVD box sets starting with the first volume in February 2010.[8] On November 20, 2012, the Complete Series dub with all 51 Episodes WAS Released on DVD in the United States. A Blu Ray set was also released. On March 16, 2015, Funimation announced that a new Blu Ray Premium Edition with a 64-page full-color artbook would be released on June 30, 2015, the same day when Funimation Would release Limited Edition Blu Ray set of Soul Eater Not![9] All 51 subtitled Episodes Are available on Funimation's website, Along with the first Twenty-six Episodes Dubbed in English.
Episodes
[
]
Main article: Category:Soul Eater Episodes
Differences between anime and manga
[
]
Main article: Difference in the Soul Eater media In Soul Eater, the anime and manga deviate from one another after Episode 35. Additionally, various concepts were changed compared from the mange and range from minor such as anime-exclusive scenes to introducing completely new concepts such as the Kishin Egg, which replaces Shinigami's List from the manga.
Music
[
]
Video games
[
]
Main article: Soul Eater: Monotone Princess The first Soul Eater-based video game was Soul Eater: Monotone Princess, an action-adventure game developed for the Wii by Square Enix with Bones and released on September 25, 2008 in Japan.[10] Featuring original characters such as Ponera and Grimoire, the story revolves around Death Weapon Meister Academy facing off against the aforementioned witch and the brainwashed servants the Paraponera Clan as she attempts to create a kishin.
Although non-canon, it follows the events of the Soul Eater anime storyline and seemingly takes place before the A Fight to the Death at the Anniversary Celebration arc.
Main article: Soul Eater: Medusa's Conspiracy The second game produced was Soul Eater: Medusa's Conspiracy (also Soul Eater: Plot of Medusa), produced by Namco Bandai Games for the Nintendo DS and was released on October 23, 2008. Sharing similarities to Soul Eater: Monotone Princess, the game also follows the anime story line as Maka Albarn and her team (consisting of Black☆Star, Tsubaki, Death the Kid, Patty, Liz, Soul Eater) attempt to thwart the plans of Medusa and her cohorts in reviving Kishin Asura.
Soul Eater x Soul Eater Not!

[

]
Artbooks & other media
[
]
Spinoffs
[
]
The series has a spinoff known as Soul Eater Not!. According to Atsushi Ōkubo, the spinoff series takes place one year before the Prologues arc of Soul Eater.[11]
Reception
[
]
References
[
]
External links
[
]