Home • Policies • Guidelines • Staff • About • Community
---
Welcome to the....

Hello there! And welcome to the Soul Eater Wikia(Also known as Soul Eater Pedia) About page. Here you will know what the Soul Eater Wikia is and it's goals that every user on the wikia. If you're reading this and you've become a regiester user, congratulations! You're considered a part of our great community! We look forward to your Contributions!
The Main Objective
Updating Content to the Latest
One of our main objective here at the Soul Eater Wikia is getting our rears and gears into updating every page on the wikia to the latest content of what's happening in Soul Eater. We strive to update chapters or episodes as soon as they're released! Though we may not be perfect, we do try to do so.
Accuracy
The point of any Wikia is to add content relating to the subject in question. Here, it is Soul Eater. Here, we strive for our contributions to be as accurate as possible. We want our visitors of the wikia to feel comfortable that whatever is read on the wikia is accurate and gain a much clearer and better understand of the World that is Soul Eater & also be able to recognize and learn about any media relating to Soul Eater such as Videogames, Music, etc.!
Expanding our Community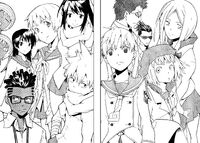 The Bigger the community, the better a wikia may function. Here at the Soul Eater Wikia, we also lend out open arms to those who wish to join our great community in making contributions with our objectives in mind but also are willing encourage others users to do the same! So come on up and join our great community. The more we have the merrier we'll be!
Having Fun!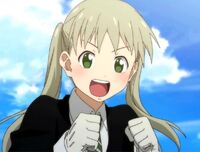 Overall, every user on the wikia should be happy to be on the wikia. Contributions can be done at any's leisure. Those who're in the community of Soul Eater Wikia are assumed to have such a passoin for Soul Eater to the point they want to strive to have others understand the world within the Soul Eater Series. And understand any of it's other forms of media like music and spin-offs!
Giving Thanks to it's Creators
The Wikia cannot eixst without the great people that help bring Soul Eater to life. Such as the author, Atushi Ohkubo or BONES Studio. Even the voice actors have various pages dedicated to them. On the Soul Eater Wikia, we take our time to make contributions on their role pertaining to Soul Eater, giving our thanks and letting others who visit the wikia to know why they deserve a contibutions centered on them. We also support you in buying Soul Eater-related material legitamantely.