"There's nothing greater in this life than winning. Victory's always the path I choose."

— White☆Star to Mifune (
Episode 46
)
[1]
White☆Star (ホワイト☆スター, Howaito☆Sutā) was a member of the infamous Star*Clan as well as the father of Black☆Star. Along with the rest of the Star Clan, he broke the rules established by the DWMA. As a result, along with his clan, he was killed by the DWMA's forces.[2][3]
Personality
Edit
Not much is known about White☆Star's personality in detail. As a member of the Star Clan, he was known as a ruthless and sinister individual who was reputed to do anything for money.[4] He had a lust for power, even taking the Path of a Demon to attain that power.[5] Some of the various negative traits seen within the assassin were passed down to his son Black☆Star, who unknowingly followed in his footsteps[5] for a time until he embraced the Path of a Warrior. Overall, White☆Star was a Dark and evil individual who was killed as a result of his crimes.[4]
Anime's Personality
Edit
This section contains an instance from an anime not present in the manga and/or a deviation
In the anime, much of White☆Star's personality is seen in detail. White☆Star was an incredibly Dark and ferocious individual who was obsessed with power and wealth. His common facial expression would be that of eerily angered eyes, which could easily illustrate his evilness. As an assassin for the Star*Clan, he killed without mercy, even to people who rightfully deserved it, and felt pride in doing so. His murderous rampages would leave him with the feeling of victory, to which he basked in continuously, to the point where he chose to base all of his morals around the theme of winning. This made White☆Star completely fall into the Path of a Demon, disregarding the need to follow any type of determined path but that of victory.[1]
White☆Star became irritated by others who seem to try to employ paths for him to take, immediately disregarding them and adverting his attention right after he determines that the person will continue to try to convince him. People's persistence may commonly lead him to become violent, and using force to silence them. In addition, White☆Star takes amusement to people who seem to be of lower skill level than he is, commonly showing a cruel smile with slight laughter towards them. He also laughs when people regonize just how powerful he is and become amazed or scared. This appeals to his pleasure in standing out when compared to others, a trait later seen in his son, Black☆Star. In his eyes, White☆Star had only one thing to fear, and that was losing. The idea that he may be defeated one day caused him to quake in terror, shaking him to the soul. Although White☆Star would never openly express this, Mifune was able to identify White☆Star's horror through an expression that he had given him after the thought entered White☆Star's mind that he may have just met his match and that his defeat was imminent.[1]
Appearance
Edit
White☆Star has white hair in the same spiked fashion as Black☆Star. However, it isn't very star-shaped and appears not to have a recurring pattern in its style. White☆Star has green eyes as well, which contain the Star Clan's star pupils.In addition to how these stars sometimes grow in size, White☆Star's eyes also sometimes glow a bright red, ultimately making the pupils disappear as a whole. White☆Star's teeth are sharp and has a slightly more muscular build than Black☆Star. White☆Star's right arm exibits the Star Clan's clan tattoo of a star on his shoulder.
White☆Star's outfit is also almost exactly the same as his son's, except his sleeveless ninja shirt and shoes are white instead of black, and he wears a long white scarf that covers his whole face up to his eyes. Lastly, White☆Star wears a bandana equipped with a metal forehead protector that contains a trident-like marking each side of the plate.
Special Abilities
Edit
Assassination Skills: White☆Star was known to be a renown assassin in the Star Clan, his fame along with the clan rose into a level of consideration to the point the DWMA was required to exterminate the clan.[6]
Hand-to-Hand Combatant: He is presumably skilled in various martial arts, with the Star Clan originating from the House Hoshi.[4] He combines his own martial arts with the usage of his weapons of choice, a Ninjato and rivaled even a powerful swordsman like Mifune whom stated he was the first opponent he truly feared.[1]
Agility: White☆Star possessed acrobatic skill that allowed him to dodge attacks from Mifune in rapid succession.[1]
Weaknesses
Edit
Despite his ability, White☆Star was a paranoid individual who could not handle the idea of defeat, prompting him to follow the Path of a Demon. Mifune has commented that when presented with an opponent who he feels may kill him, it strikes fear into his very soul.[8]
Equipment
Edit
Ninja Sword (忍者刀, Ninjatō): White☆Star's preferred weapon is a ninja sword, a small blade capable of cutting human flesh.[1]
Star Clan Slaughter
Edit
White☆Star was a member of the notorious Star Clan, a clan of assassins infamous in account that they would do anything for money. During his reign of terror alongside his fellow clan mates, they would terrorize a number of villages including the Village of Shin. At some point in his life, he had a son whose name was Black☆Star with an unnamed woman. A year after his birth, having broken the rules established by the DWMA, he along with his clan members was killed by their forces as a result.[6][9]
Encounter with Mifune
Edit
This section contains an instance from an anime not present in the manga and/or a deviation
In the anime, the White☆Star appears to have survived the slaughter.
One night when he just killed an entire household of people, he was approached by the Samurai Mifune. Mifune immediately identifies White☆Star as a Star Clan member and states to him that he is close to forsaking The Path of a Warrior for The Path of a Demon. White☆Star responds with a battle stance, and tells Mifune that he has no use for paths, explaining that he is only after victory, and that nothing else matters to him. Mifune ignores White☆Star's words, and attempts a second time to convert him, telling White☆Star that he still has time to change, and that he highly suggest he do so. White☆Star then interrupts Mifune, stating that that is enough, and that he was finished listening.[1]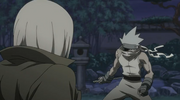 The two then engage in battle, but before either person is able to do any damage to the other, they soon find themselves in a stalemate, with Mifune's blade up against White☆Star's torso and White☆Star's blade up against Mifune's throat. Mifune then explains to White☆Star that he has the strength to be so much more, and questions why White☆Star has chosen to be who he is. White☆Star replies that he believes that there is nothing higher in life than winning, and that victory is always the path he chooses. Mifune then (expressively) tells White☆Star that he is weilding a double-edged sword, and that while it kills his opponents it is cutting away at his soul as well. White☆Star then becomes enraged by Mifune's words, and deals a powerful kick to him. This sends Mifune flying into a nearby staircase as White☆Star eerily stands in place and stares at the samurai. As Mifune observes White☆Star, White☆Star is shown holding his right shoulder, where Mifune was able to lightly cut White☆Star's star tattoo. White☆Star does this while giving an eerily fierce expression towards Mifune, which illustrates White☆Star's sudden fear and anger towards the samurai.[1]
The two are then shown continuing their battle on a cliff-like platform near a waterfall. Mifune at this moment tells White☆Star that he believes that they should end their battle. White☆Star's eyes suddenly glow red at Mifune, and he lifts his head into the moonlight. Mifune becomes surprised at the sight of White☆Star's eyes, and questions White☆Star as to whether of not he was even Human anymore. White☆Star responds by laughing darkly, and charges towards Mifune.[1]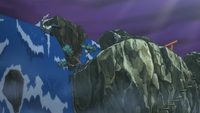 As the two exchange blows, Mifune is shown attacking White☆Star by launching a number of his Infinite Swords, using his Infinite One-Sword Style, towards him, to which White☆Star dodges. As Mifune is shown to be becoming overwhelmed by White☆Star's strength, it is revealed that the only damage he was able to deal to eyes. Realizing that this had been cut, White☆Star pulls the cloth down, revealing his demented face. As he does this, his sharp teeth are shown as White☆Star drools, then licking his face with his slithering tongue. After White☆Star lets out a small chuckle, the two charge at each other for the final time. Mifune is able to gain an opening to White☆Star, and takes it, slicing White☆Star with an extremely White☆Star was a cut on White☆Star's scarf, which covered his face up until his powerful strike. This sends White☆Star flying off the edge off the platform, plummeting to his demise.[1]
In the Anime of Soul Eater, White Star was shown to consume souls despite the fact it was told in earlier episodes only demon weapons can consume soul. This is seen as one of the various inconsistencies within the anime. In the manga, he was killed as a result of his crimes.
Both White☆Star and Excalibur share the same English dub voice actor, Troy Baker.
References
Edit
↑ Soul Eater Manga: Chapter 7 — Black☆Star: Thirteen years ago...they were slaughtered by DWMA.
↑ Soul Eater NOT! Manga: Chapter 6 — Akane: The Star Clan used their powers outside of the rules, so DWMA crushed them.
↑ Soul Eater NOT! Manga: Chapter 6 — Akane:But our dojo teaches the old ways, the means to kill human beings. Have you ever heard of the "Star Clan"? They're assassins who kill for money. And the Star Clan is an off-shot of my family's school.
↑ Cite error: Invalid <ref> tag; no text was provided for refs named SEAE46
↑ Soul Eater NOT! Manga: Chapter 6
Community content is available under
CC-BY-SA
unless otherwise noted.